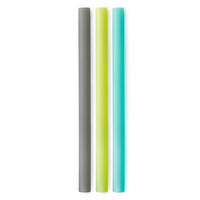 Go Sili Extra Wide Straws 3 pk
The siliskin reusable straws are 100% silicone. These extra wide straws are perfect for smoothie drinks and bubble or boba tea. They come in a pack of 3 with 3 different colors. Easy to use and keep clean. 
100% European-grade silicone
BPA, BPS, phthalate, PVC, and lead free
Dishwasher safe
Straws are 8.5" in length with an opening of 0.75 cm.