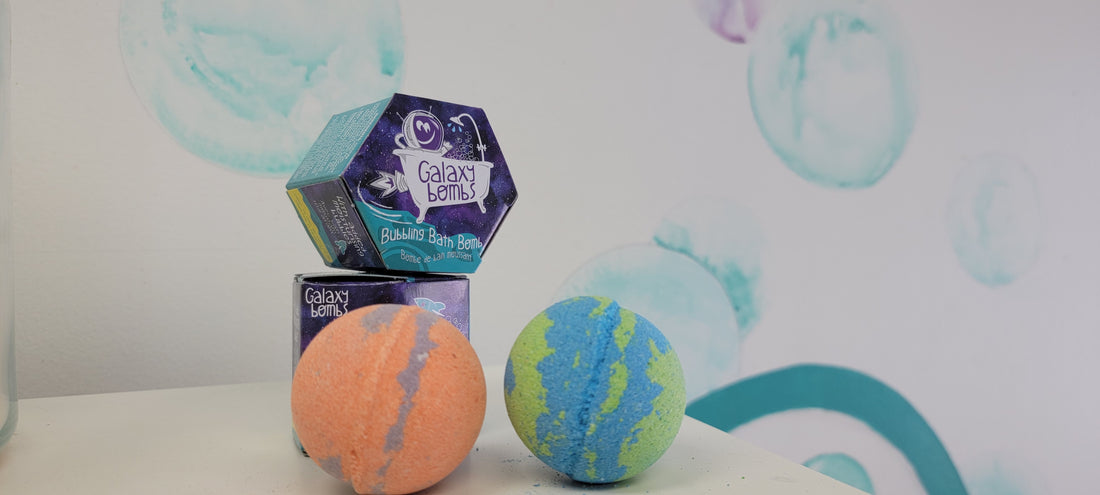 GALAXY BOMBS™ are swirling planets that fizz in the tub leaving a galaxy of bubbles behind! Fill the bath and simply drop in a Galaxy Bomb™ and watch as it spins and colours the water. As it fizzes, each Galaxy Bomb leaves a trail of fruity bubbles to play with… and they won't stain your bath! (or your children!!). 
Galaxy Bombs are hand-made in Vancouver, Canada to be skin-friendly, vegan and gluten-free. No parabens, phthalates, chemicals or other nasties. 


*Various colours*



Ingredients: Sodium Bicarbonate, Citric Acide, Organic Colloidal Oats, Sodium Lauryl Sulfoacetate (lathanol), Aqua, Organic Coconut or Grapeseed oil, Essential & Fragrance Oils.
May Contain FD&C colour at 0.5% or less of total materials.
ABOUT LOOT
Loot bath products are multi-sensory experiences designed to engage kids and stimulate their imagination.
They draw on sight, smell and touch to motivate kids to jump in the tub and stay there.
All products are certified compliant with CE, ASTM, CPSIA and Health Canada requirements. No pthalates, parabens or other nasties.
The products are, at a minimum, 99.5% natural using ingredients that are both food and cosmetic grade, and they won't stain your kids or your bathtub.
They are committed to hand-making their products and sourcing their materials in North America.
They operate 2 workshops in Vancouver, Canada and ship across Canada and the US.