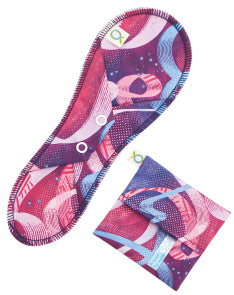 Oko Creations Vaness Teen Regular Cloth Pad & Storage Pouch
Have you heard of Öko-Teens? They're thin, comfortable and colourful reusable pads! 
Öko-Teens' Vaness: this set includes a pad and individual storage pouch. 
Öko-Teens' Vaness provides protection for regular menstrual flow. Don't worry about leaks, because Öko-Teens have a breathable waterproof layer. 
The top layer of each pad is made with specially woven organic cotton that rapidly absorbs liquid to create a stay-dry effect. 
This fabric is also a beautiful purple colour to hide stains*. The absorbent core is made from a true super-hero fibre: incredibly 
absorbent and truly eco-friendly hemp! 
How do they stay in place? A pair of wings secure around your underwear thanks to a thin snap. The ergonomic shape prevents the pad from slipping backwards. 
Individual storage pouch with a twist! 
A practical and discreet individual storage

pouch comes with each pad. Each pouch has a little tag marked "To wash!" When you tuck a used pad into a pouch, pull out the tag. That way you'll always know which pouches contain clean pads and which ones need to be washed. You'll love it! 
Öko-Teens Vaness:
Format: 1 protection and 1 individual storage pouch

Color: Purple top, assorted prints pattern bottom and wing

Composition:

o Protection: 67% hemp, 27% organic cotton, 6% food grade polyurethane 
o Pouch: 78% organic cotton, 22% food safe polyurethane 
Packaging : FSC paper


Made in Canada



Öko-Teens characters created and illustrated by Soefara Jafney Jaafar