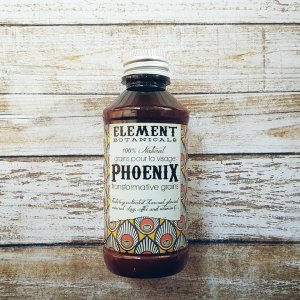 Element Botanicals Phoenix Transformative Grains 118ml
As a masque, mix with honey (our favourite!), water, tea, yogurt, fruit purees or just about anything you like. Apply to face and neck, allow to sit 10-15 minutes or so, then rinse with warm water and a cloth.
As cleansing grains, put a small amount in the palm of your hand, add a bit of warm water, massage into face and neck, rinse. 
As a spot treatment to target areas for firming or as a spot treatment, mix a small amount with enough honey or liquid to form a paste, apply to area, allow to dry, rinse.
Developed and perfected with your help through our beta product testing! 
Key Elements:
Activated Charcoal: Carbon (from ethically sourced bamboo) is activated by heating it to the point where it expands and becomes incredibly porous; When it is applied to the skin it pulls toxins, bacteria and impurities to it and out of the deep layers of the skin. The result is an incredibly effective detoxification of the skin. (Activated charcoal is so effective at adsorbing toxins that it is commonly administered in cases of poisoning and snake or insect bites!)
Canadian Glacial Clay: Rare Canadian deposits of this clay contain high amounts of trace elements and minerals and are very low in sodium. (Unlike dead sea mud for example.) Glacial clay has an amazing absorptive and detoxifying ability and deeply yet gently cleanses the skin.
Coffee Extract: The caffeine in coffee encourages overall firmness of the skin and can reduce the puffiness and inflammation associated with dark circles. Additionally, it can reduce the build-up of blood under your eyes which contributes to dark shadows. 
Green & White Tea, Kombucha, Dong Quai, Rosehip: Superfoods for the skin, added for their ability to provide antioxidants and deep nourishment.
118ml/ 4oz recyclable plastic bottle