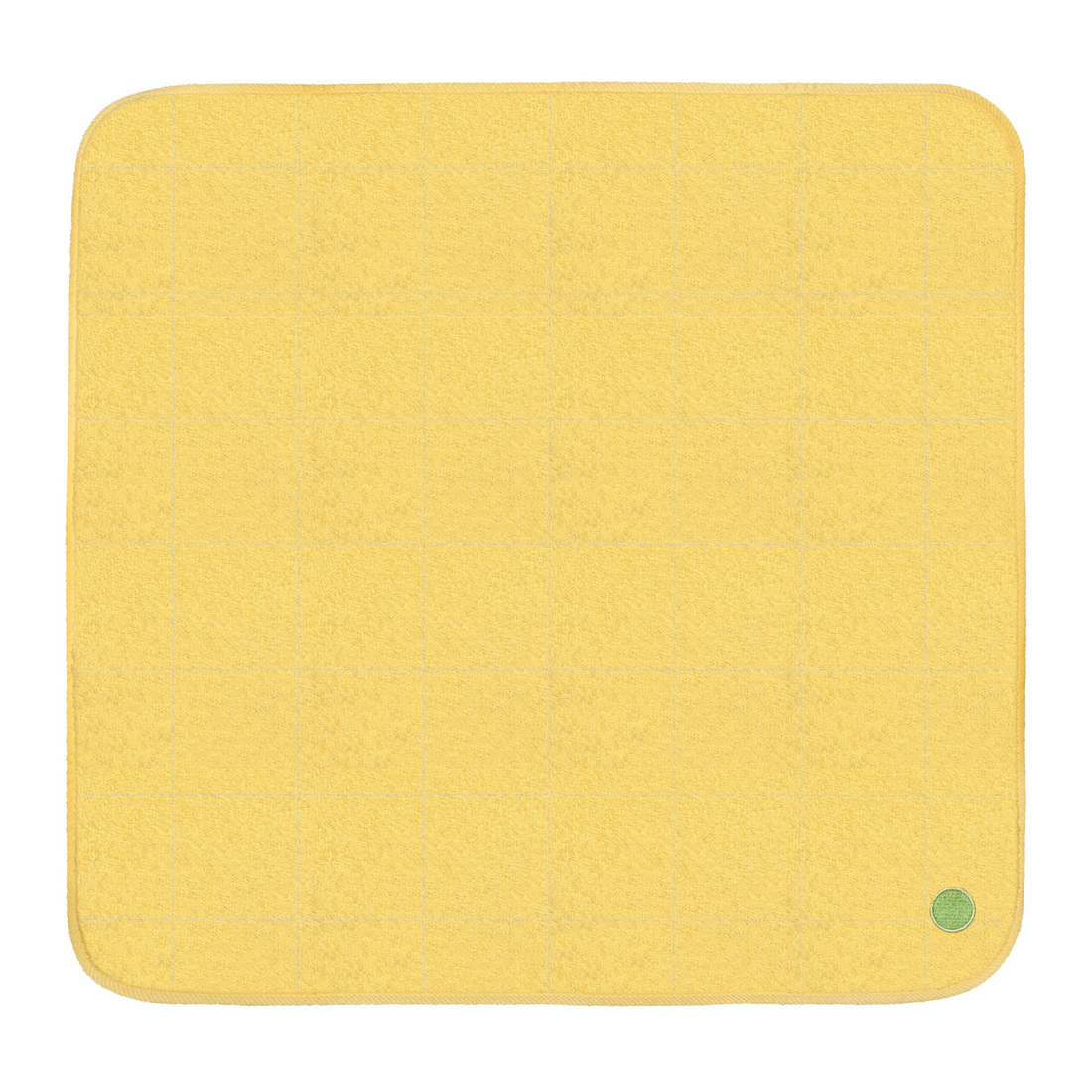 PeapodMats - Waterproof Bedwetting Mat 3'x3'
PeapodMats (this listing is for 3'x3' Size)
No more tucking-in other mattress protectors or stripping sheets. When wet just use regular wash and dry cycle! On the go? Pack it up and take it with you.
The big difference? PeapodMats lie flat ON TOP of sheets with a grippy material underneath that allows the mat to remain stationary and in-place WITHOUT flaps, straps or Velcro. This means there is no need to tuck or wrap the mat around the mattress or mattress corners.  With the design of the PeapodMat, not only does it remain stationary, but will stay flat without bunching or gathering. This provides a comfortable and protected sleep throughout the night.
The PeapodMat is a unique combination of 3 layers that creates a super-absorbent waterproof mat
TOP LAYER
Breathable terry cotton; grid stitched to prevent bunching
MIDDLE LAYER
Polyester liner to absorb and disperse moisture
BOTTOM LAYER
Brushed polyester to grip surfaces; coated with breathable TPU (Thermoplastic Polyurethane) waterproofing
PeapodMats are comfortable and soft to sleep on with no "plastic crinkle" sound or "cold vinyl" feel. Though mattress/sheet protectors made from plastic can also prevent liquids from going through to the mattress, the liquid saturates the sheets being slept on. More than likely you may have to clean up the mess using a few towels, and then have to strip and change your bed sheets. However, with any accident on the waterproof PeapodMat, the only thing you would need to toss in the wash is the PeapodMat itself. Kind of like washing your super amazing towel!
NOT recommended is the use of fabric softener, dryer sheets, dryer balls or regular use of vinegar or oxyclean.  These products are known to reduce the quality of waterproofing.
Sizing Guidelines:  Please keep in mind, these are only suggestions. Factors to consider are size as well as age of child, movement in bed and size of bed. Please refer to the videos below for additional information:
3×3 – recommended for children ages 1yr – 3yrs - perfect fit on a toddler bed or twin mattress.
3×5 – 3 yrs and older - great for a twin bed for full length coverage (squirmy little one) or great on double, queen and king size bed.
NEW 1.5'x1.5' - perfect size for a recliner chair or couch.
PeapodMats Demo Video: https://youtu.be/Az1t9Pfwl6M    PeapodMats Tips Video: https://youtu.be/Glq4djFAfeQ
PeapodMats are suitable for toddlers and older children as they progress through potty training and bed wetting. Hassle free when wet, just wash and dry on regular cycle. No more changing the bedding sheets every day!
§  Tummy Time Mat
§  Changing Mat
§  Playpen Mat
§  Bathing Mat
§  Potty Training Mat
§  Toddler Nappy Time Mat
§  Highchair Liner
§  Stroller Liner Mat
§  Sleep-overs
§  Preschool Rest Mat
§  Co-sleeping
§  Picnic/outdoor Mat