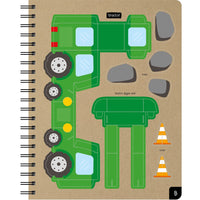 On the Go Cardboard Builder Book
Build your own cool vehicle with this pop-out-and-play book, featuring emergency vehicles, a tractor, and much more! The model machines are easy to make and perfect for entertaining little ones.
48 page wire bound book. Dimensions of Book: 11.2 x 9.3 x 1 inches. For ages 3+.