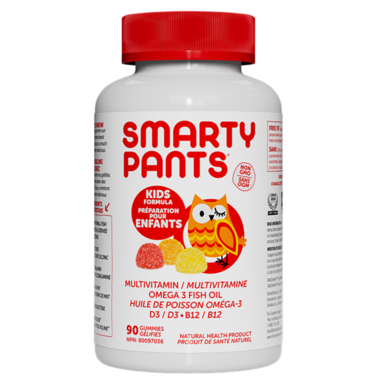 Smarty Pants Kids Formula
Kids Formula gives little ones cootie-free nutrition by combining omega-3s from fish oil and 19 premium nutrients—all in one. Helps to buld strong bones and teeth. Antioxidant for good health. Helps support immune function. Supports energy production and a source of omega-3 fatty acids for the maintenance of good health
Superstar Ingredients: Omega 3 fish oil from small fish, zinc as zinc citrate, B12 as methylcobalamin, Vitamins K1 and K2 as MK7, Beta Carotene, Choline as Vitacoline
Recommended Dosage:
For children 4 years of age and older, take four (4) gummies daily. May be taken with or without food. Chew each gummy thoroughly.
Premium nutrients, non-gmo, gluten gree, no synthetic colours, flavours and preservatives, free of yeast, wheat, milk, eggs, soy, peanuts, tree nut allergens, fish allergens, shellfish and salicylates.

Caution:
Consult a health care practitioner/health care provider/health care professional/doctor/physician prior to use if you are taking blood thinners.
120 Count Bottle
Ingredients: 
Medicinal Ingredients: Per 4 gummies: Beta-carotene 90mcg. Vitamin A (retinyl palmitate) 49.5mcg RAE. Vitamin C (Ascorbic acid USP) 45mg. Vitamin D (D3 as cholecalciferol) 20mcg (800IU). Vitamin E (as d-alpha-tocopherol) 6.6 mg AT (9.8IU). Vitamin K (K1 as pholloquinone) 12 mcg. Thiamin (Vitamin B1 as thiamine mononitrate) 0.1mg. Riboflavin (Vitamin B2) 0.16mg. Vitamin B6 (as pyridoxal 5-phosphate) 1mg. Folate (as L-5-methyltetrahydrofolate, calcium salt) 150mcg. Vitamin B12 (as methylcobalamin) 1.8mcg. Biotin 16mcg. Pantothenic acid (as calcium D-pantothenate) 375mcg. Choline (as choline bitartrate) 12mg. Iodine (as potassium iodide) 90mcg. Zinc (as zinc citrate) 1.6mg. Fish Oil (herring, sardine, mackerel) 340mg. Total Omega-3 Fatty Acids 100mg. EPA 56mg. DHA 44mg. Inositol (as inositol hexanicotinate) 2mg. Vitamin K2 (as menaquinone-7 FCC) 8mcg. Non-medicinal Ingredients: Organic Cane Sugar, Organic Tapioca Syrup, Gelatin, Pectin, Citric Acid, Natural Flavours, Colours Added (Organic Black Carrot Juice Concentrate, Organic Turmeric).