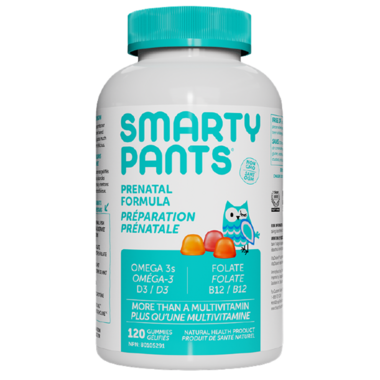 Smarty Pants Prenatal Vitamins
The mom-to-be necessity, Prenatal Formula is the ultimate vitamin doula that packs in 21 premium nutrients for a happy pregnancy. Antioxidant for good health, helps in energy production, immune function, a factor in the maintenance of good health and normal growth and development.
Recommended Dosage:
For pregnant or lactating women, take four (4) gummies daily. May be taken with or without food. Take a few hours before or after taking other medications or health products.
Caution:
Consult a health care practitioner/health care provider/health care professional/doctor/physician prior to use if you are taking blood thinners.
Folate for healthy nervous system development
Omega 3s for brain health
Vitamin K2 and D for bone health
B12 for mental focus and energy balance
Iodine for thyroid health
120 Count
Medicinal Ingredients: Per 4 gummies: Beta-carotene 260mcg. Vitamin A (retinyl palmitate) 143mcg RAE. Vitamin C (Ascorbic acid USP) 48mg. Vitamin D (D3 as cholecalciferol) 25mcg (1000IU). Vitamin E (as d-alpha-tocopherol) 14.3 mg AT (21.45IU). Vitamin K (K1 as pholloquinone) 24 mcg. Thiamin (Vitamin B1 as thiamine mononitrate) 0.14mg. Riboflavin (Vitamin B2) 0.16mg, Niacin (Vitamin B3 as inositol hexanicotinate) 18mg. Vitamin B6 (as pyridoxal 5-phosphate) 2mg. Folate (as L-5-methyltetrahydrofolate, calcium salt) 400mcg. Vitamin B12 (as methylcobalamin) 4.7mcg. Biotin 17.5mcg. Choline (as choline bitartrate) 55mg. Iodine (as potassium iodide) 290mcg. Zinc (as zinc citrate) 3.9mg. Selenium (as sodium selenite) 14mcg. Fish Oil (herring, sardine, mackerel) 455mg. Total Omega-3 Fatty Acids 132mg. EPA 66mg. DHA 48mg. Inositol (as inositol hexanicotinate) 5mg. Vitamin K2 (as menaquinone-7 FCC) 16mcg. Non-medicinal ingredients: Organic Tapioca Syrup, Organic Cane Sugar, Gelatin, Pectin, Citric Acid, Natural Flavours, Colours Added (Organic Black Carrot Juice Concentrate, Organic Turmeric), Organic Sunflower Oil, Organic Carnauba Wax.