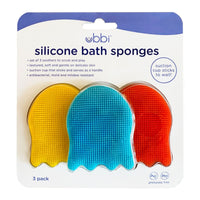 A set of three silicone bath sponges shaped like friendly-looking jelly fish whose suction cups stick to the bath tub as well as serve as handles when scrubbing.
Made of 100% silicone, the bath sponges are durable and flexible.  Made to scrub and massage, but these jolly and colorful creatures can also be used for creative play in the bath tub.
Made for newborns to be soft and gentle on their delicate skin and cradle cap, but the silicone bath sponges can be used by everyone in the family!
• Contents: set of 3 silicone bath sponges in blue, red and yellow friendly-looking jellyfish
• Age: Newborn and up
• Dimensions: 2.75" W x 3.5" H x 1.5" D
• 100% silicone: the bath sponges are durable and flexible
Air dry to prevent mold and place on top rack of dishwasher for an easy clean