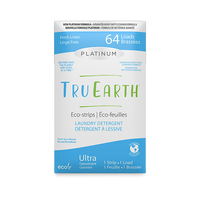 Tru Earth PLATINUM Eco Strip Laundry Detergent - 64 Loads
Each Tru Earth PLATINUM strip packs an advanced, heavy-duty cleaning formula to clean even the dirtiest clothes. Still, the pre-measured, eco-friendly strip consumers know and love, but this time, it packs an even bigger punch.
This 64-pack of Tru Earth Eco-Strips Laundry Detergent comes in a convenient, biodegradable cardboard sleeve. 
Tru Earth Eco-Strips are ultra-concentrated, lightweight and easy to use. It's an eco-friendly product that packs a ton of cleaning power into a tiny, pre-measured strip of detergent. 
You simply tear off a strip and place it either in the dispenser or inside the drum of your washing machine. 
Here are some other facts: 
Works in all washing machines and will dissolve in either hot or cold water. 

The packaging for the eco-strips is a biodegradable cardboard sleeve that can be recycled or thrown in your compost. 

A mandate to support local communities and to reduce plastic waste - We've donated over 2 million eco-strips to food banks, shelters and hospitals across North America.  
Tru Earth Certifications
Paraben-free

Phosphate-free

Free of added dyes

Free of chlorine bleach

Free of 1,4-dioxane, as certified by independent laboratory tests

Readily biodegradable in accordance with OECD 310D

Vegan: no animal-based ingredients or testing on animals by us or our ingredient suppliers






Eco-friendly Eco-strips have a significantly smaller eco-footprint than liquid, pod, or powder detergents. 
Its zero-waste packaging uses no plastic, and its light weight reduces transportation fuel consumption and carbon emissions by 94.75% compared to today's leading brands. 
Easier Tru Earth keeps things simple and convenient with load control: 1 strip for 1 load. 
The 94.75% smaller/lighter packaging makes eco-strips much easier to for consumers to transport and store. 
Effective Each strip of highly concentrated detergent only weighs just 3 g and packs more punch than traditional 40 g of premium liquid or powdered detergents. 
Experience heavy-duty cleaning that: • Removes the toughest stains • No residuals left on clothes • Reveals vibrant colours • Restores radiant whites