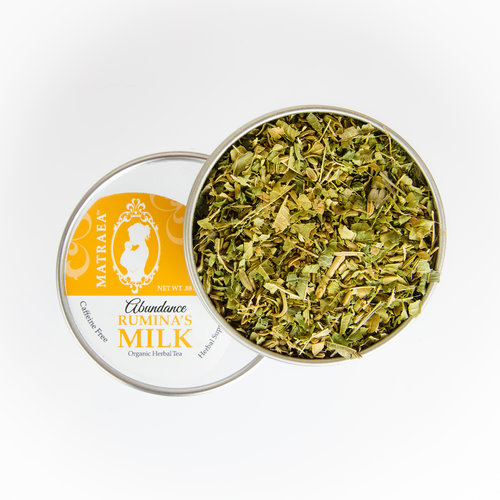 Matraea Organic Milk Producing Breastfeeding Tea
Want to increase milk flow naturally? Our Matraea Abundance Rumina Milk Tea is formulated by midwives and certified organic by Ecocert Canada. A balanced herbal blend to encourage healthy lactation, our milk tea supports mamas by providing essential vitamins and minerals so you can nourish your baby while you are nourishing yourself. Our loose leaf blend is easy to use and offers more milk-boosting benefits per serving than bagged teas.
Best used in consultation with a primary health care provider.
*Consult your midwife/doctor if you are pregnant and breastfeeding.

110g (30 Servings)
Certified Organic by Ecocert Canada
Ingredients
Fennel Seed/Graines de Fenouil (Foeniculum vulgare)*; Lemon Verbena Leaf/Feuille de Verveine Vitron (Lippia citriodora)*; Anise Seed/Graines d'Anis (Pimpinella anisum)*; Caraway Seed/Graines de Carvi (Carum carvi)*; Fenugreek/Fenugrec (Foenum-graecum)*; Lemon Oil/ Huile de Citron (Citrus limon)*; Fennel Oil/ Huile de Fenouil (Foeniculum vulgare)*
*Organic Ingredients/Ingrédients Biologique