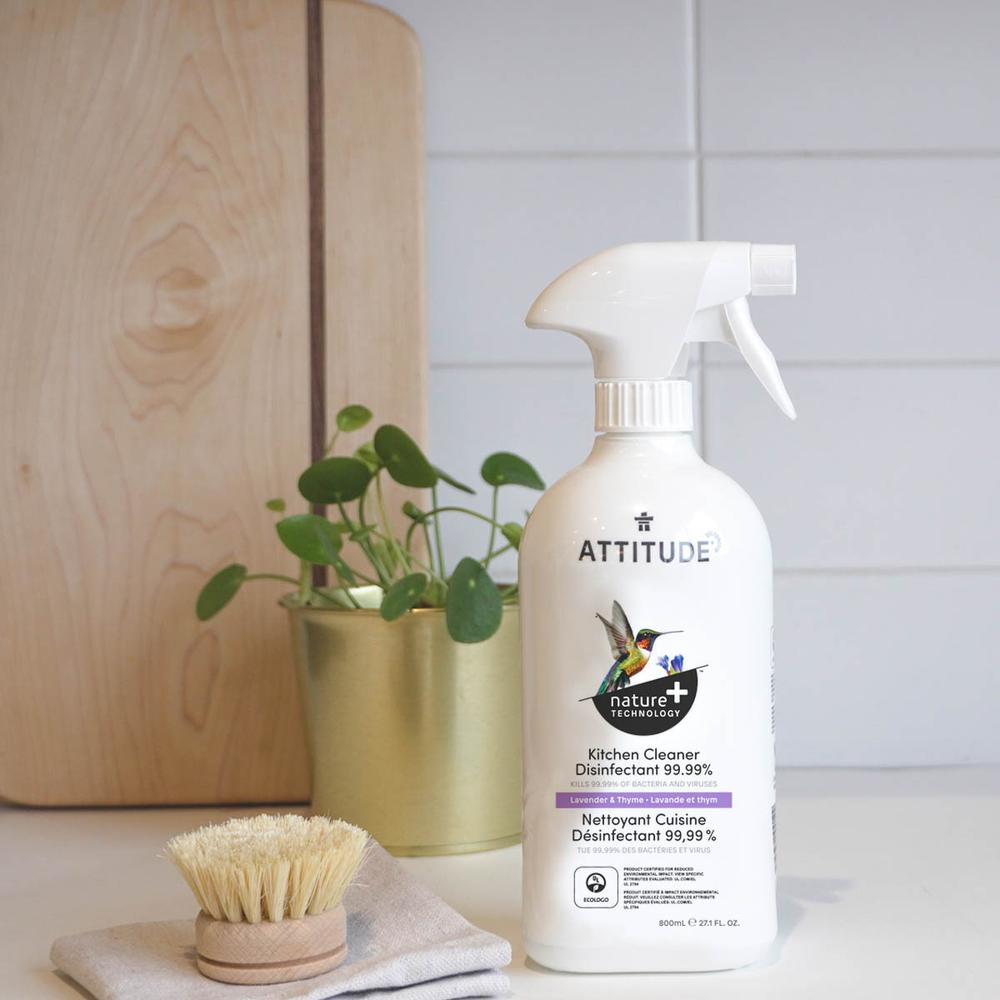 Kitchen Cleaner Disinfectant 99.9%
Our ECOLOGO-certified Kitchen Cleaner Disinfectant 99,99% – Lavender & Thyme kills 99.99% of bacteria and viruses on hard surfaces, without leaving behind residues. Our formula is developed with plant-based surfactants for an effective way to get rid of germs on all cooking and dining surfaces. You'll love the natural and refreshing aroma of thyme and lavender in your home!
• Disinfectant cleaners featuring caprylyl glucoside and myristyl glucoside, are effective surfactants that are tough on germs.
• Made with plant-based ingredients and renewable raw materials.
• Features a fresh and light lavender scent.
• Free of ethoxylated surfactants (1,4-dioxane and ethylene oxide). Free of preservatives such as parabens, formaldehyde, formaldehyde releasers, or any other substances listed in California's
Proposition 65 list of chemicals.
• Free of triclosan, a widely used antibacterial and antifungal agent.
• ECOLOGO® Certified: sustainable and biodegradable household product.
•PETA Certified: cruelty-free and 100% vegan.
READ LABEL BEFORE USE. DIRECTIONS: Spray and wipe. To disinfect hard, nonporous surfaces (e.g. countertops, tables, fridges, oven, etc.), allow surface to remain wet for 10 minutes before wiping. It is advisable to test on an inconspicuous area. Rinse all food contact surfaces with clean water after treatment. For hard surfaces and/or objects that may come into direct contact with children at the mouthing stage of development, a rinse with potable water is recommended. For heavily soiled areas, a pre-cleaning is required. KEEP OUT OF REACH OF CHILDREN. AVOID CONTACT WITH FOOD. CAUTION: May cause eye and skin irritation. Avoid contact with eyes, skin, and clothing. Wash hands thoroughly after handling. FIRST AID: In case of contact, immediately flush eyes or skin with plenty of water for at least 15 minutes. Remove contact lenses, if present and easy to do, and continue rinsing. Get medical attention if symptoms persist. If swallowed, call a poison control centre or physician immediately. STORAGE: Store at 15-30 °C in a cool, dry place. Store tightly closed in a cool, dry place in original container away from sunlight. Do not freeze. DISPOSAL: Do not reuse empty container. Rinse container and discard in recycle bin. For disposal of unused, unwanted product, contact the manufacturer or the appropriate municipal / provincial / territorial agency or product stewardship organization.