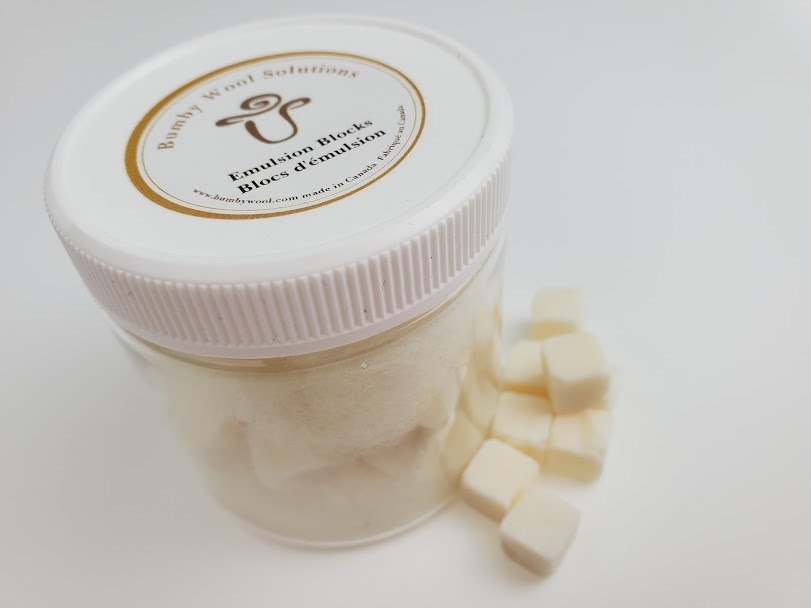 Bumby Wool Solution Emulsifying Blocks
25 Handmade Emulsion pre-cut cubes nestled on a pillow soft cloud of 100% merino wool.  Please re-use the jar or recycle.
Our Bumby Wool Solution Emulsifying Blocks are hand crafted in our workshop.  We saponify food grade oils and fats, creating a luscious soap that lightly bubbles and emulsifies lanolin, as well as can be used to make a wool wash solution.  
We only use the best quality Fragrance Oils (FO) and Essential Oils (EO) in our products.   Many customers really like yummy smells, so we have launched scented fragrance oils as well.   Please note that these oils do change the colour of the blocks.  Some have a mild beige colour and some are quite deep brown.  This doesn't effect the function in any way, and is fairly standard.
All Natural Fragrance Oils are plant-based aromatics that are produced using pure essential oils and aromatic isolates derived solely from natural, raw botanical sources. All oils can therefore be certified as being free of synthetic ingredients.
This Fragrance Oil is Paraben & Phthalate Free
Handmade Emulsion pre-cut cubes in a nestled on a pillow soft cloud of 100% merino wool.
White Melon & Violet:
All Natural White Melon & Violet Fragrance Oil is a delicious and succulent aroma that is prefect for Summer! Top notes of Banana and Pineapple blend with heart notes of Melon, Violet and Cinnamon, along with a base of Creamy Vanilla to produce an intriguing scent that is sure to delight!

Dragon Orchard:
A scent of fruity delights with crisp top notes of pineapple and peach infused with a blend of citrusy orange. Find traces of rose, wood violet and carnation in mid-notes adding zest that settles into luscious vanilla cream blended with oakmoss and sweet musk.

Pomegranate Mango:
The prefect blend of crisp pomegranate, citrus and juicy Mangoes. 

Love Spell: An alluring floral scent, has top notes of fruity peach, cherry, strawberry, plum, an tangerine, a heart of green fresh herbal, basil, and lavender, followed by a musky base.
Relax: Blood Orange, Bergamot, Grapefruit, Patchouli, and Ylang Ylang Essential Oils.
Refreshing citrus Bergamot and tangy Blood Orange combined with the deep earthy aroma of Patchouli and Ylang-Ylang make this a pleasant and soothing blend to create a relaxing atmosphere in your personal environment

Bergamot: The aroma is basically citrus, yet fruity and sweet with a warm spicy floral quality, and is reminiscent of Neroli, giving a middle note of medium strength.

Lemongrass Verbena: Fresh sweet citrus with a soft light floral that doesn't over power.

Lemon Blossom: A zesty citrus delight. This wonderful fresh, light lemon scent is a must have! Top notes of lemon, lime, muguet and green herbaceous. Soft powdery base notes.
How to Lanolize
Use boiling hot water. Heat in the kettle or use a microwaveable glass
Use a 1 emulsion block with about twice the volume of lanolin.
Dissolve the emulsion block in the hot water

https://bumbywool.com/product-category/wool-care/emulsion-blocks/
Don't worry if its not entirely dissolved
The soap makes the mixture cloudy, not as much the lanolin
Using too much soap can make a really stable emulsion, but also just puts more soap into the wool. The goal is the lanolin in the wool

Mix in lanolin

https://bumbywool.com/product/bumby-wool-solutions-solid-lanolin/
You can use a jar and shake or or just use a spoon to stir
This mixture doesn't have to be overly milky looking
A few little floating bits is ok
Large chunks is likely due to a water issue
Acidic water doesn't like to emulsify lanolin. Try adding a bit of baking soda. Some need to use distilled or bottled water

Add room tempreature water
Pour into a small basin or bowl that your wool fits into nicely

Too large and the emulsion spreads too much
Avoid plastic because the lanolin is hard to clean off
Metal is nice to clean and also cools the mixture quickly.

Place your INSIDE OUT wool into the basin

Aim for the wet-zone aka crotch, to go in first
Squeeze gently and move around to allow the lanolin to absorb
The wool will absorb the lanolin very quickly. Having heavy lanolin will result in staining and clumping. Light lanolin in the basin will avoid this.

Remove the wool, no need to soak

Your bowl should have a tiny bit of water left
This water should be cloudy with a bit of soap and traces of lanolin
Reheat this little bit of water to dip a subsequent pair , you can add a little bit more emulsion block if needed
Or save to use at a later date
It is best to not dump this liquid as it can clog drains with any residual lanolin in the solution over time

Turn the garment right side out and gently rub the sides together. This will help the lanolin absorb into the fibers
Lay flat to dry
If you want to add more lanolin, repeat this process. It is a good idea to let it dry a bit first. You may find you have lots in there though.
I am adding in a new step, rinse the wool after the lanolin has settled into the fibers.  Turn the wool right side out and rinse the soap out, spinning in the machine is helpful.
DEEP THOUGHTS

The lanolin tends to absorb quickly, so letting it soak just means you are soaking it in soap water, which would be how you would remove lanolin
The lanolin coats the wool, so having too much in there just means it is staying in the water as it can't easily get through and being wasted down the sink
Layering is a great way to allow the lanolin to penetrate the fiber first, then adding another layer
If you are struggling just get some distilled water, you don't need much in this process and it is cheapre than wasting lanolin
Citric acid or vinegar will pull lanolin from a solution. You can make your solution clumpy and skim off the top and remove the lanolin. It is a wax so you can rinse it to reuse. Do this if your mixture breaks or you used too much and want to save it for later.
Why would we do all this? Lanolin is nature's way of moisturizing wool. It creates a waterproof barrier as well as the anti-microbial natural of your wool.