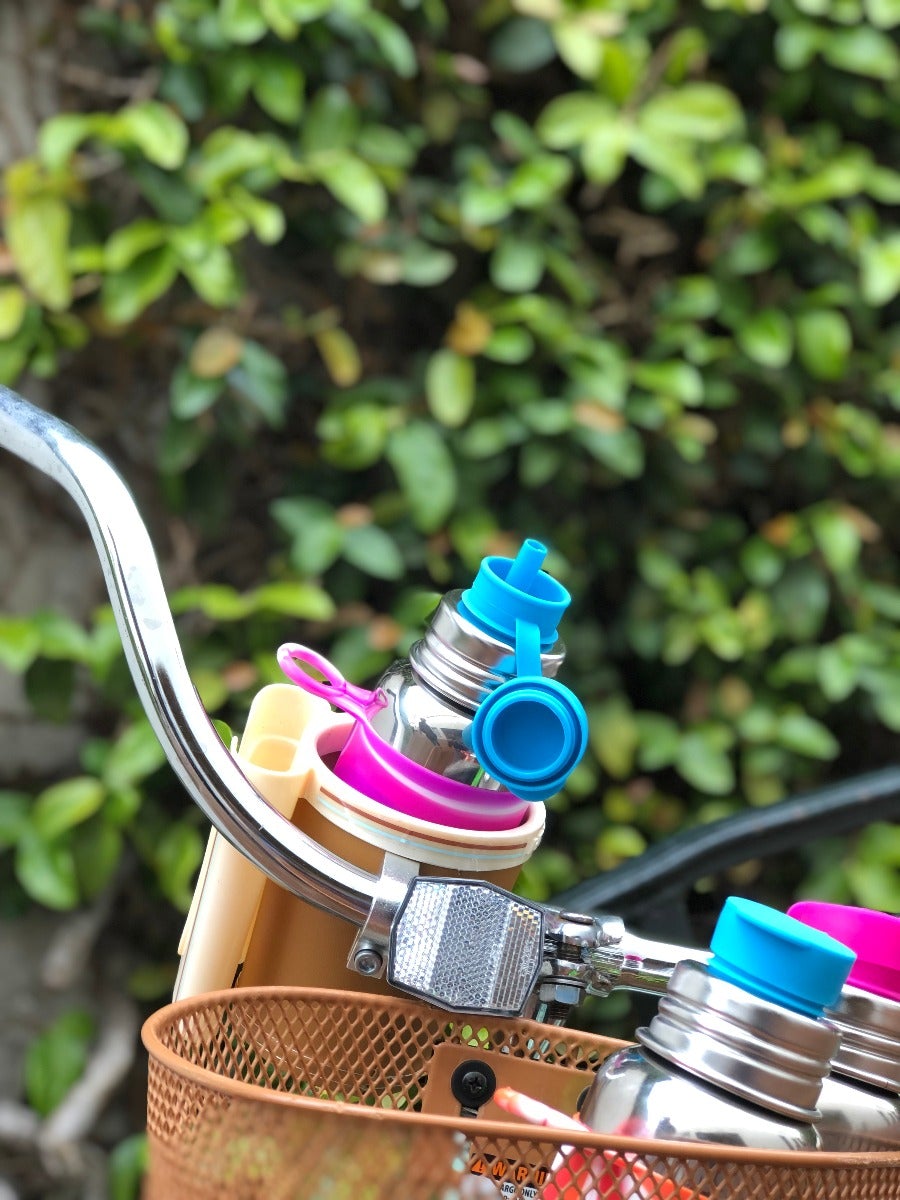 Pura Kiki's Big Mouth® Sport Straw is a free-flowing two-piece straw with a flip lid to eliminate spills and keep the tip clean.
This all-around top works equally well for 18-month-olds, older kids, teenagers and even adults; in fact anyone seeking a 100% plastic-free, free-flowing, leak-proof top for their stainless bottle. Convert your standard or insulated Kiki bottle into the perfect bottle for school-age kids!
Crafted entirely from medical grade silicone the Big Mouth® Sport Straw may very well be the only 100% plastic-free straw top on the market (except our valved sippy toddler straw). You can rest assured that you are getting the safest top for your child or anybody in the family.
• Age Range: 18 months to adult
• SAFE: No Plastic Components...No Safety Concerns!
• Baby Grows… Bottle Evolves™: Extends the usable life of Kiki bottles to older kids and adults
• MadeSafe Certified: Crafted from safe, anti-bacterial medical grade silicone
• BPA-free & EA-free - will not leach toxins like plastic straws or lids
• Contains a removable silicone straw that extends into the bottle
• Includes an attached lid to keep the straw tip clean
• Big Mouth® Sport Straw top is not designed for hot liquids above 105°F
• Includes Pura measuring tape allowing you to cut your straw to fit ANY Pura bottle
• Dishwasher safe
• Top Rack Dishwasher Safe. Electric Sterilizer safe. Do not use microwave sterilizers for any metal parts.
• While cleaning silicone nipples, spouts, straws, or other tops, be careful not to damage the drink holes or vents.
• Do not turn nipples inside out.
• Inspect the nipple (feeding teat) and all other silicone mouthpieces or tops before each use.
• Pull the feeding teat, other silicone mouthpieces, and tops in all directions. Throw away at the first signs of damage or weakness.
• Do not leave a nipple (feeding teat) in direct sunlight or heat, or leave in disinfectant ("sterilizing solution") for longer than recommended, as this may weaken the nipple (teat).
• Silicone can be damaged by teething. Inspect the opening of all drink components for loose silicone. Replace when worn, torn, or if there is loose silicone.