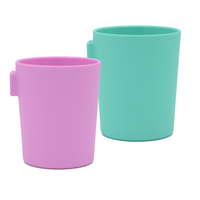 Ez-Cup Magnetic Hanging Cups 2 pk
Our innovative magnetic cups can make your everyday life a little easier. The dishwasher-safe cups feature magnets so that they can hang right on the refrigerator door. 
This encourages children to reuse the same cup as they drink their recommended daily amounts of water. 
The magnets are safely embedded into the plastic, keeping them out of the hands and mouths of young ones. Each 2-pack comes in different colors so kids (and parents) can easily identify their own cups. 
 Made in United States of America