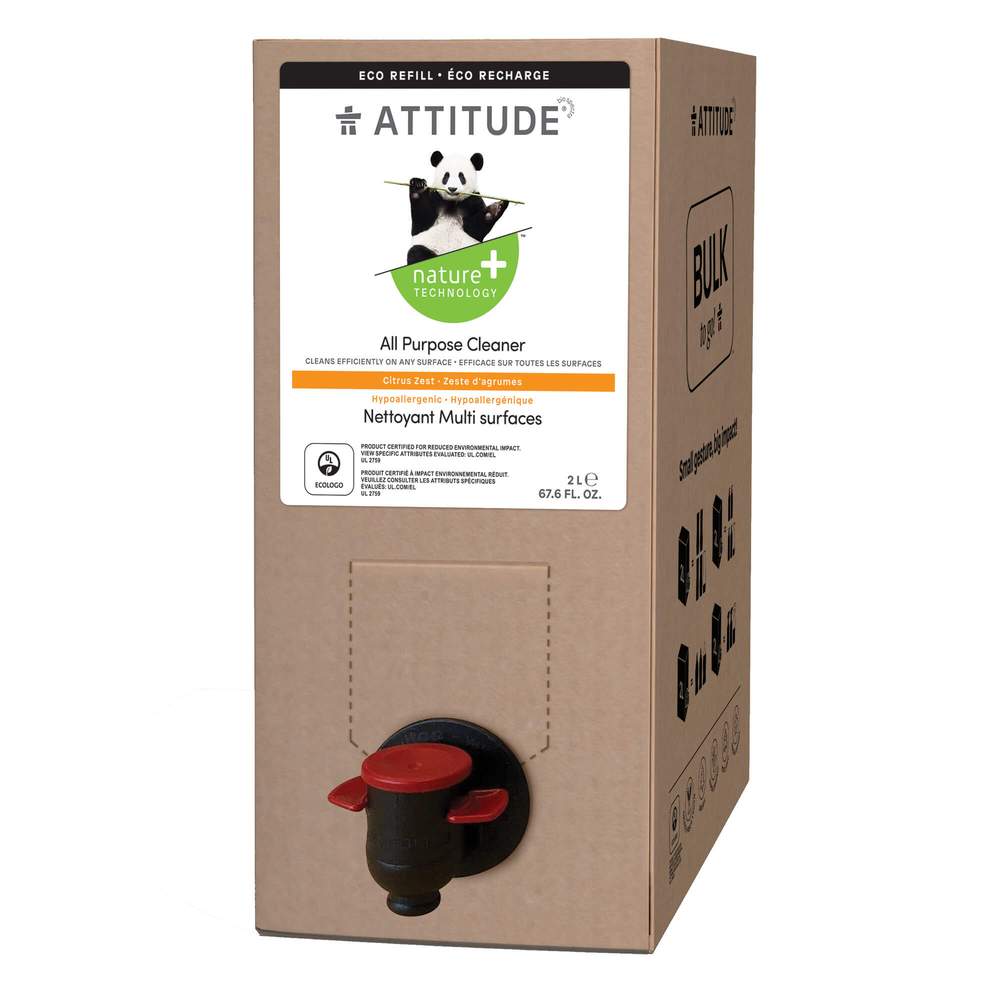 Attitude - All Purpose Cleaner Citrus Zest 2L Bulk Refill
Cleaning while caring for the environment with our new ATTITUDE Nature + Technology™ All Purpose Cleaner – Citrus Zest BULK to go format – is a great alternative to single-use bottles. ECOLOGO Certified, sustainable and biodegradable, it is designed to use 76% less plastic than our equivalent bottles, and can carry up to 2.5 times the quantity of our cleansing formula, so you can refill from the comfort of your home and waste less! Formulated with saponins, a natural foaming and cleansing ingredient, our multi-purpose cleaner will keep your kitchen countertops, tables and every other surface sparkling clean and smelling fresh!
Ingredients: <5% Non-ionic surfactants (caprylyl glucoside, myristyl glucoside). Contains also : water, propanediol, sodium citrate, saponins, terpineol (citrus), decanal (citrus), allyl heptanoate (sweet fruit).
Benefits
Practical and convenient BULK to go packaging: can be stored in your kitchen cupboards and used to refill your ATTITUDE bottles.
Container made with BPA-free, 100% recyclable plastic bag and spigot, as well as 100% recyclable cardboard.
All-purpose cleaner made with plant and mineral based ingredients such as saponins, a powerful cleansing agent.
Streak-free formula: suitable for various surfaces and countertops.
Free of synthetic fragrances: features a natural fresh and clean citrus scent.
Hypoallergenic and dermatologically-tested: suitable for sensitive skins.
Crafted with surfactants from plant-derived renewable raw materials.
Graded A in EWG's Guide to Healthy Cleaning.
ECOLOGO Certified: biodegradable and sustainable product.
PETA Certified: cruelty-free, containing no animal-derived ingredients.
Free of Sodium Laureth Sulfate (SLES), Sodium Lauryl Sulfate (SLS) and PEGs (such as PEG-100 Stearate and PEG-40 Hydrogenated Castor Oil), contaminated with cancer-causing byproducts such as 1,4-Dioxane and Ethylene oxide, according to the IARC.
Free of harmful preservatives such as Phenoxyethanol, Parabens, Formaldehyde or Formaldehyde-releasers and MIT, according to the EWG's Guide to Healthy Cleaning.
Free of Phthalates and Triclosan, known as potential endocrine disruptors according to the EWG Guide to Healthy Cleaning.
Directions
For the box:To release the spigot, push in the cardboard tab (applying pressure on the inside edges of the dotted area). Pull the spigot out of the opening and push the tab back in to hold it in place. Carefully remove the safety seal from the valve by pulling on the small red stem. Gently press the top of the spigot with your thumb. Make sure that any receptacles you want to fill are clean and dry. If necessary, use a funnel to make it easier to pour the liquid.


For the product: Spray and wipe. It is advisable to test in an inconspicuous area. If you are looking for a mindless cleaning solution, use ATTITUDE's All-Purpose Cleaner. You may use this product to clean your house, car, barbecue, office, gym, yoga mat…