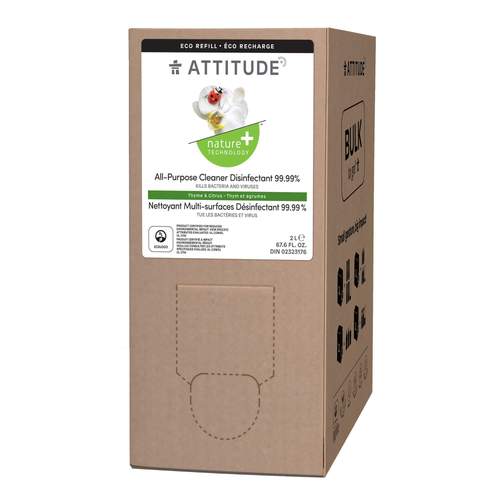 Attitude - All Purpose Cleaner Disinfectant 99.9% - BULK Boxes
Did you know that some viruses can live up to seven days on household surfaces? In addition, studies have found that an average home can house over 340 different types of bacteria! Keep household germs away with ATTITUDE's Nature + TechnologyTM All Purpose Cleaner Disinfectant 99.9% – Thyme & Citrus. Its formula is developed with plant- and mineral-based ingredients to clean your home!
Ingredients:
5% non-ionic surfactants(coco glucoside, lauryl glucoside). Contains also / Contient aussi : water, alcohol, thyme essential oil, terpineol (citrus), decanal (citrus), allyl heptanoate (sweet fruit).
Active Ingredient: Octyl decyl dimethyl ammonium chloride (0.0225% w/w) Didecyl dimethyl ammonium chloride (0.01125% w/w) Dioctyl dimethyl ammonium chloride (0.01125% w/w)
Disinfectant cleaner featuring Caprylyl glucoside, an effective surfactant.
Free of synthetic fragrances: features a natural and refreshing thyme & citrus aroma.
Made with plant-based ingredients: Crafted with renewable raw materials (plant-derived glucose and fatty alcohols).
ECOLOGO® Certified: sustainable and biodegradable household product.
PETA Certified: cruelty-free and 100% vegan.
Free of ethoxylated surfactants contaminated with ingredients of concern (1,4-Dioxane and Ethylene oxide).
Free of potentially harmful preservatives such as Parabens, Formaldehyde and Formaldehyde releasers.
Usage:
Spray and wipe. To disinfect hard nonporous surfaces (e.g. countertops, walls, bathtubs, toilet bowls, etc.), let stand for 10 minutes before wiping. It is advisable to test on an inconspicuous area. Rinse all food contact surfaces with clean water after treatment. For heavily soiled areas, a pre-cleaning is required.