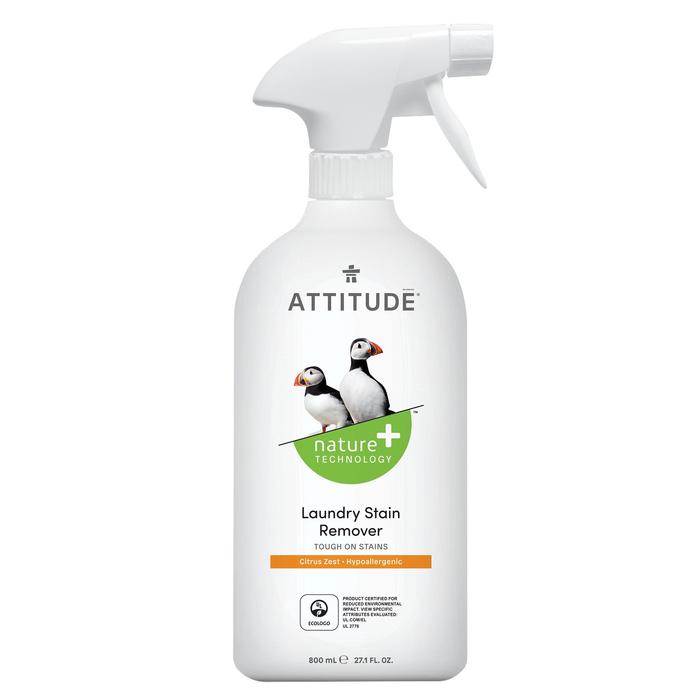 Attitude Laundry Stain Remover Spray
Safe for whites, colors and all colorfast washables and made with plant- and mineral-based hypoallergenic ingredients to naturally remove stubborn stains from your clothes
Ever wondered why sunlight bleaches clothing? The photon energy in the light breaks down color molecules. But if your stains can't wait for sunny days, try ATTITUDE Nature + TechnologyTM Laundry Stain Remover — Citrus Zest. Safe for whites, colors and all colorfast washables, it's made with plant- and mineral-based hypoallergenic ingredients to naturally remove stubborn stains from your clothes. ECOLOGO® Certified, it's tough on stains but gentle on you and the environment. Simply spray, wait and wash!
• Natural laundry stain remover suitable for white and colored fabrics.
• Dermatologically-tested and hypoallergenic: contains no known allergens or skin irritants.
• Free of synthetic fragrances: naturally scented with an invigorating citrus aroma.
• ECOLOGO® Certified: sustainable and biodegradable.
• PETA Certified: 100% vegan and cruelty-free.
• Free of 1,4-Dioxane and Ethylene oxide, cancer-causing contaminants according to IARC.
• Free if potentially harmful preservatives such as Parabens, MIT, Phenoxyethanol, Formaldehyde and Formaldehyde releasers.
Spray directly onto stain. Rub ATTITUDE laundry stain remover into fabric. Let penetrate 1 to 5 minutes depending upon the severity of the stain. Wash with laundry detergent. Always check labels for special instructions. Do not let dry on garment. KEEP OUT OF REACH OF CHILDREN.