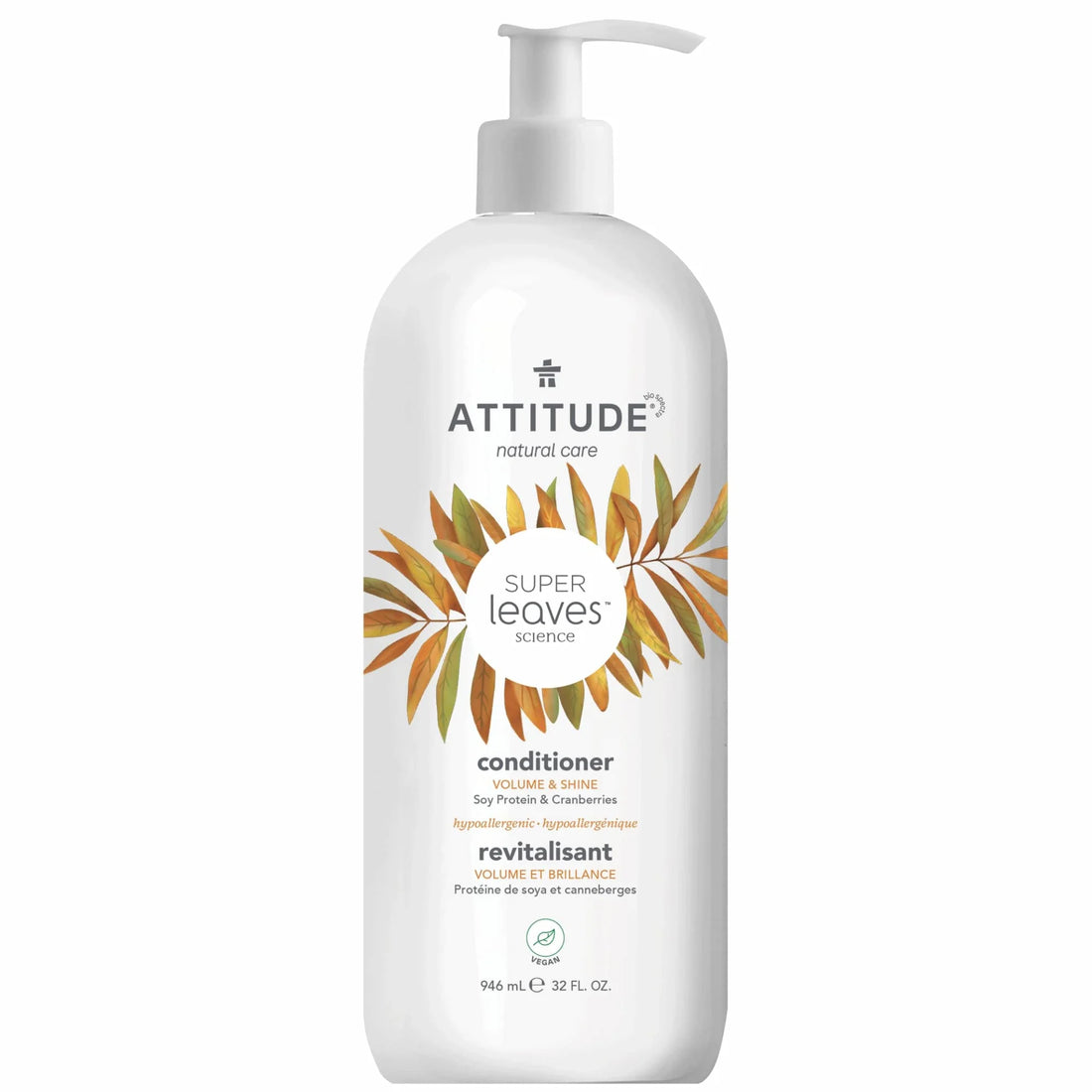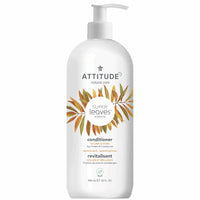 For beautiful hair, from root to end!
ATTITUDE's Super leaves™ Volume & Shine Conditioner
Did you know soya is known to increase hair and skin thickness? Since hair is mostly composed of protein, soya can only help with its high concentration of proteins. Featuring cranberry extract, this conditioner helps volumize hair, creating thick and shiny locks. You will love its aroma that reminds us of orange and cardamom.
ATTITUDE's Super leaves™ Nourishing and Strengthening Conditioner
Did you know olives are rich in healthy fats and antioxidants? As a matter of fact, olive leaves are also loaded with these healthy nutrients. With its aroma that reminds us of pear and ginger, this conditioner combines the goodness of olive leaves with grapeseed oil, widely used for its healing and moisturizing properties. Ideal for dry and damaged hair, this conditioner helps to restore and strengthen distressed locks. 
Please note: the packaging may differ slightly from the visuals on this page
• Hypoallergenic and dermatologically-tested
• Moringa seed extract, with its cleansing and purifying power, helps decrease the adhesion of pollutants and detoxifies the hair and scalp.
• Comes in a squeeze tube, making it easy to use.
• Our surfactants are made of plant-derived glucose and fatty alcohols, free of ethoxylated bi-products contaminated with cancer-causing chemicals (1,4-dioxane and ethylene oxide), such as SLES/SLS.

• Nourishing & Strengthening:
• An aroma that reminds us of pear and ginger.
• Loaded with antioxidants, grapeseed oil and olive leaf extract help nourish and strengthen dry and damaged hair.
• Olive leaf extract is known for providing deep conditioning down to the follicle, bringing out your hair's natural luster.
• Grapeseed oil is known for its deep repair proprieties and helps renew dry and damaged ends, softening hair and adding shine.

• Volume & Shine:
• The aroma reminds us of orange and cardamom.
• Packed with antioxidants, soy protein and cranberry extract will contribute to boost your hair's volume.
• Cranberry has astringent, purifying and antioxidant properties.
• Soy protein has a restorative effect, toning down frizz and adding shine to hair.

• Nourishing & Strengthening: Aqua/water/eau, vegetable glycerin, caprylic/capric triglyceride, polyquaternium-10, butyrospermum parkii (shea) butter, polyglyceryl-2 stearate, dicaprylyl ether, glyceryl stearate, stearyl alcohol, nasturtium officinale (watercress / cresson) extract, tropaeolum majus (Indian cress / capucine) extract, sodium benzoate, potassium sorbate, citric acid, maltodextrin, moringa oleifera seed extract, vitis vinifera (grape / raisin) seed oil, olea europaea (olive) leaf extract, hexyl salicylate (floral), geranyl acetate (floral), hexyl acetate (fruit)

• Volume & Shine: Aqua / Water / Eau, Cetearyl Alcohol, Glycerin, Caprylic/Capric Triglyceride, Behentrimonium Methosulfate, Zea Mays (Corn) Starch, Glycine Soja (Soybean) Oil, Dicaprylyl Ether, Sodium Benzoate, Potassium Sorbate, Vaccinium Macrocarpon (Cranberry) Fruit, Hydrolyzed Soy Protein, Citric Acid, Nasturtium Officinale (Watercress) Extract, Tropaeolum Majus (Indian Cress) Extract, Sodium Hydroxide, Leuconostoc/Radish Root Ferment Filtrate, Ethyl Hexanoate*, Gamma-Decalactone*, Hexyl Salicylate*, Raspberry Ketone*, Triethyl Citrate*, *fragrance (Parfum)

Our products are constantly evolving, hence, please refer to the product packaging for our most accurate ingredient list.
• After shampoo, work through hair, then rinse.
• For best results, use it with paired shampoo