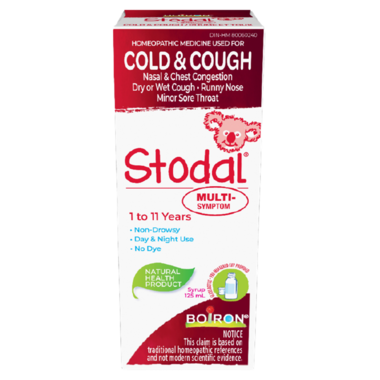 Boiron Stodal Children's Cold & Cough Syrup
Boiron Stodal is a homeopathic medicine used for cold symptoms such as nasal congestion, runny nose, sneezing, dry & productive cough, or chest congestion.
Features:
Non Drowsy
Day & night use
Dye Free
Directions:
Children from 1 to 11 years: Take 5 mL orally, using the pre-measured cup provided, 3 times per day. Reduce with improvement. Do not administer to children weighing less than 8 kg (17 pounds).


Ingredients:
Dulcamara 5CH, Ferrum phosphoricum 9CH, Hydrastis Canadensis 9CH, Kali bichromicum 9CH, Nux vomica 6CH
Non-Medicinal Ingredients: Sucrose, purified water, sodium benzoate, citric acid monohydrate.
Caution: Consult a health care practitioner before use in the case of a cough that occurs with too much mucus or thick, greenish mucus, a persistent or chronic cough such as occurs with asthma or shortness of breath. Stop use and ask a health care practitioner if cough lasts for more than 7 days, comes back, or is accompanied by fever, rash, or a persistent headache; or if sore throat persists for more than 2 days or occurs with a fever, headache, rash, nausea or vomiting. These could be signs of a serious condition. If fever or symptoms persist or worsen, consult a health care practitioner. Keep out of reach of children.