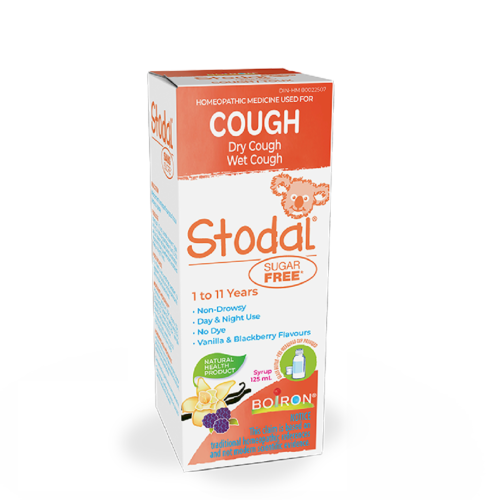 Stodal Children's Cough Syrup - Sugar Free
Boiron Stodal Sugar Free is a homeopathic medicine used for dry or wet cough.
Features:
Non Drowsy
Day & night use
Dye Free
Vanilla & Blackberry Flavour
Directions: Children from 1 to 11 years: Take 5 mL orally, using the pre-measured cup provided, 3 times per day. Reduce with improvement. Do not administer to children weighing less than 8 kg (17 pounds).
Sucrose-free. Contains maltitol and sorbitol as sugar substitutes.
Ingredients: Antimonium tartaricum 6CH, Bryonia 3CH, Coccus cacti 3CH, Drosera 3CH, Ipecacuanha 3CH, Pulsatilla 6CH, Rumex crispus 6CH, Spongia tosta 3CH, Sticta pulmonaria 3CH
Non-Medicinal Ingredients: Maltitol syrup, Purified water, D-sorbitol, Vanilla flavour, Blackberry flavour, Sodium benzoate, Citric acid monohydrate
Warnings: If fever or symptoms persist or worsen consult a health care practitioner. Keep out of reach of children.