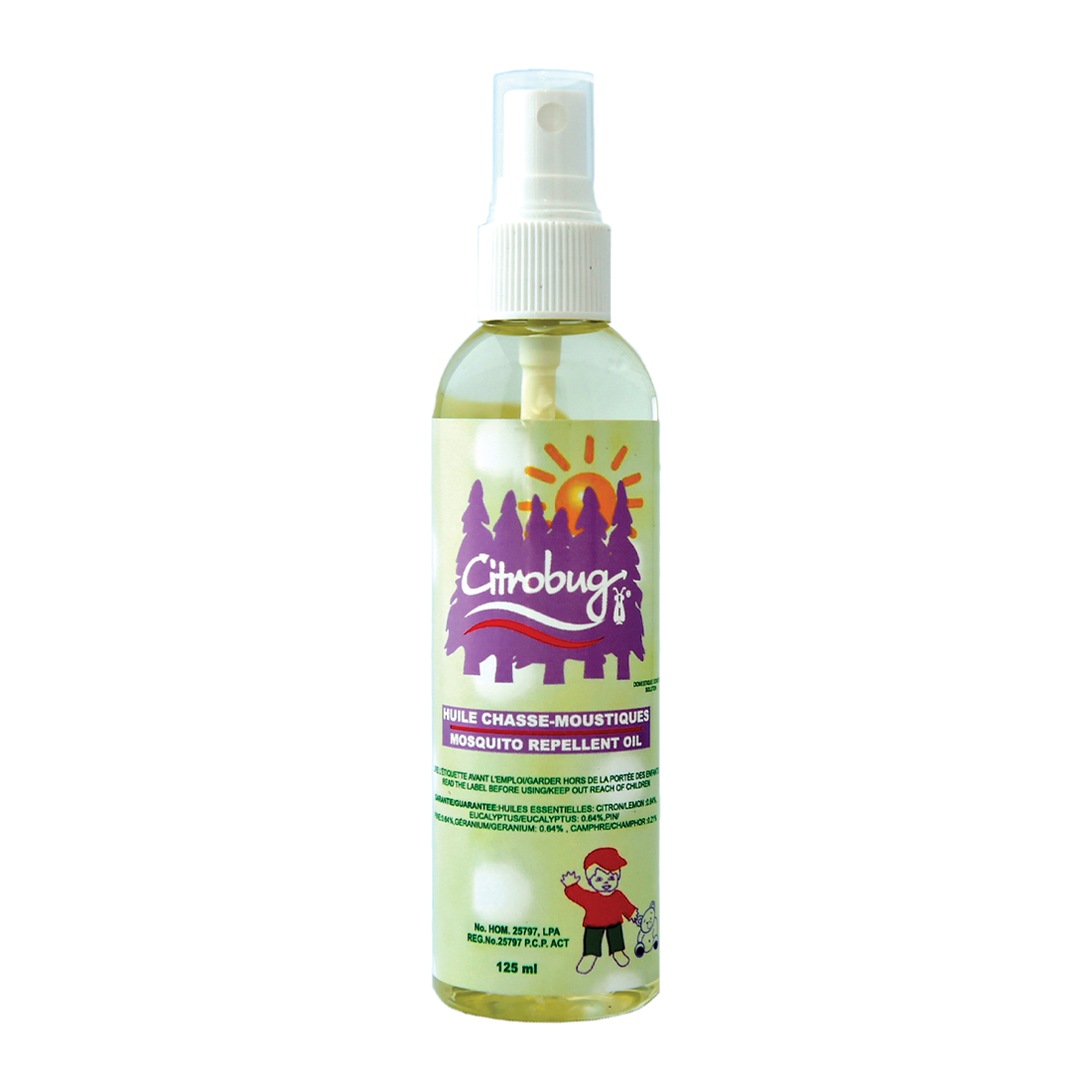 Citro Bug Mosquito Repellent
Natural mosquito repellent spray made with essential oils (lemon, camphor, geranium,eucalyptus and pine), non-toxic for the environment, hypo-allergenic and safe for the whole family! Most effective product available on the Canadian market to date, Citrobug has been shown to be as effective as any other product that contains 25% DEET! This product may be used safely.
125mL 

Features:
Free of parabens or other dangerous chemicals
Made with Essential Oils
Ideal for kids, summer camps, and family outdoor gatherings
Health Canada Registered P.C.P # 25797

Guaranteed:
Lemon oil………0.64%

Eucalyptus oil… 0.64%

Pine needle oil….0.64%

Geranium oil …..0.64%

Camphor oil……0.21% 
Ingredients: Mineral oil extracted by a certified Ecocert process, vegetable sunflower oil and essential oils of lemon, geranium, pine, eucalyptus, camphor and citronnella.


Directions: Apply a thin film to exposed skin, avoiding eyes, mouth, wounds, and sensitive, irritated or sunburned skin. To apply to face, spray a small amount on hands and rub on face. Apply sparingly, only when necessary, and not under clothing. Always supervise applications on children and do not apply to the hands of young children. After returning indoors, wash treated skin and contaminated clothing with soap and water. Reapply at 2 hour intervals only if exposure to mosquitos continues. DO NOT EXCEED 2 APPLICATIONS PER DAY.
Precautions: KEEP OUT OF REACH OF CHILDREN. DO NOT USE ON CHILDREN, 2 YEARS OLD AND LESS. For external use only. May cause skin reactions on sensitive individuals. Discontinue use if signs of irritation or rash appear..
First Aid: If ingested, call a poison control centre or doctor immediately for treatment advice. Do not induce vomiting unless told to do so by a poison control centre or doctor. Do not give any liquid to the person. Do not give anything by mouth to an unconscious person. If in eyes, hold eye open and rinse slowly and gently with water for 15–20 minutes. Remove contact lenses, if present, after the first 5 minutes, then continue rinsing eye. Call a poison control centre or doctor for treatment advice. Take container, label or product name and Pest Control Product Registration Number with you when seeking medical attention.
Toxicological Information: Treat symptomatically. Note: Product contains a petroleum distillate solvent. 

Disposal: Do not reuse empty container. Wrap in newspaper and discard in household garbage.