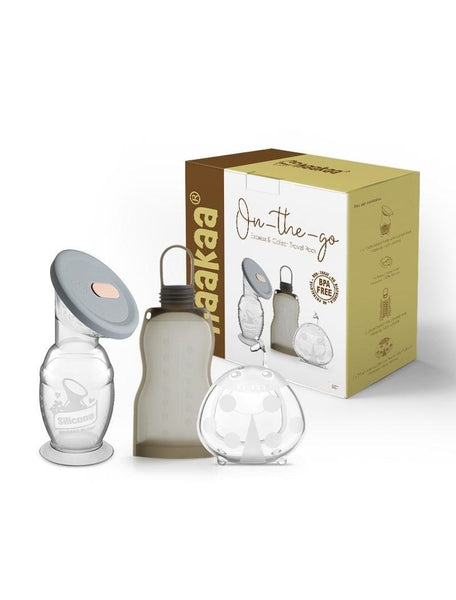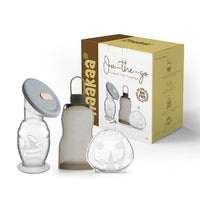 Haakaa Express & Collect Travel Pack
We know busy mums have no time to be chained to the couch by their pump, so we've created the perfect travel pack for pumping and collecting milk on the go! Whether you're expressing or saving every drop of leakage, the Haakaa Pump, Ladybug, and Storage Bag provide easy, zero-effort solutions to collect and store your liquid gold. It's the perfect set to have at home or out and about!
This set contains:
1 x 150ml Breast Pump with Suction Base : 
The Haakaa Silicone Breast Pump is made of a single piece of 100% silicone and provides an easy, eco-friendly, and effective pumping experience! Its compact size fits perfectly into any handbag or baby bag and requires no hard work to use, and the suction base sticks to any flat surface to keep the pump upright.
1 x Breast Pump Cap : 

The Haakaa Silicone Breast Pump Cap fits securely over the top of your Haakaa Breast Pump, protecting it from accidental spills and keeping your precious breast milk safe from airborne dust and other nasties!
1 x 260ml Breast Milk Storage Bag :

The Haakaa Silicone Milk Storage Bag is the perfect solution for safely storing your precious breast milk! Once you have finished expressing, pour your breast milk into the bag and firmly push in the leakproof stopper. Our Silicone Storage Bags are fridge and freezer safe for flexible storage options.
1 x 75ml Ladybug Silicone Breast Milk Collector :

The Haakaa Ladybug Silicone Breast Milk Collector! Simply pop inside your bra and save every drop of your liquid gold. The discreet, one-piece design attaches securely to your breast and collects any breast milk that would otherwise be lost in a nursing pad. It is completely portable and has small feet on the bottom that lets the Milk Collector stand upright on flat surfaces to prevent any spills after use. Once you have finished collecting your let-down, open the plug on the top and safely pour your milk into a container or bottle.
How to Pump On-the-Go?
Squeeze the pump base, center over your nipple, and release. This will draw your milk with continuous suction.

Pour and store!

The Silicone Cap keeps any milk in your pump safe and keeps your pump hygienic after cleaning.
Collecting Your Let-down :
With the plug closed, squeeze the collector and place it over your nipple.

Press to your breast to create gentle suction and begin collecting let-down.

After collecting, detach the collector and pour the milk through the outlet into your silicone storage bag.
Please note: Always follow your country's guidelines and recommendations to safely express and store breast milk.
"Because #mumlife doesn't stop when you leave the house."