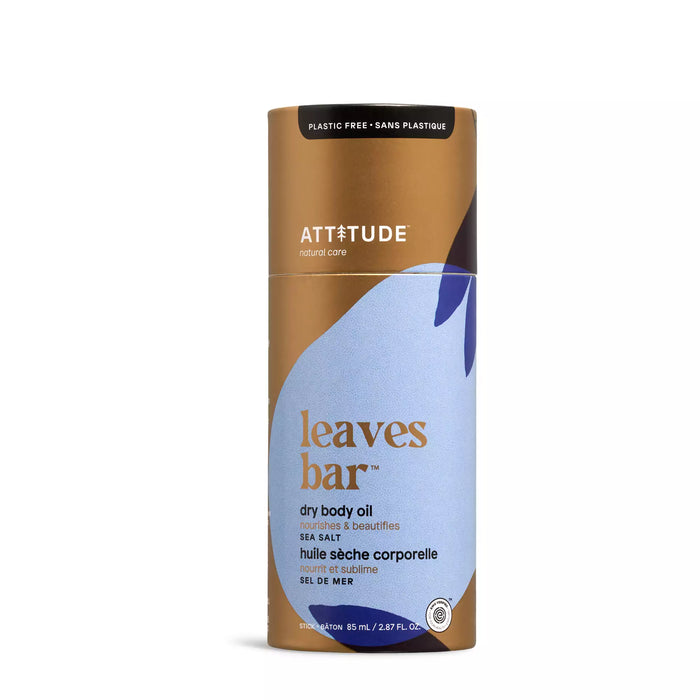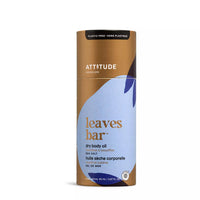 Fast-absorbing, vegan and biodegradable, our leaves bar™ dry body oils infuse skin with instant moisture for soft, touchable results. They come neatly packaged in a recyclable cardboard tube for a plastic-free, clean beauty routine.
An indulgent solid body oil that dissolves instantly to deeply nourish and beautify your skin. The ATTITUDE leaves bar™ Dry Body Oil – Sea Salt is enriched with a blend of precious, fatty-rich oils like jojoba oil and avocado oil to nourish and soften the skin. It also contains Indian cress and watercress extracts to revitalize and condition. EWG VERIFIED™ and vegan, our sea salt body oil will revolutionize your moisturizing routine, providing instant hydration and dry skin relief on the go. Summer or winter, envelop yourself in a refreshing mineral smell reminiscent of the seashore!
Dry body oil enriched with a blend of precious oils that nourish and soften the skin: jojoba oil and argan oil, rich in fatty acids such as omega 6 and 9, and avocado oil, rich in vitamin A, E and D.
Contains sunflower oil, rich in vitamin E, as well as grape seed oil, rich in polyphenols.
Enhanced with Indian cress and watercress super leaf extracts for enhanced performance and supple skin.
Easy to apply: solid texture that melts upon contact.
Comes in an innovative plastic-free, biodegradable cardboard package, designed with a built-in push-up design.
Eco-friendly substitute to bottled creams: comes in a travel-friendly FSC-certified cardboard packaging.
EWG VERIFIED™: contains no ingredients of concern according to EWG standards.
PETA certified: vegan and cruelty free.