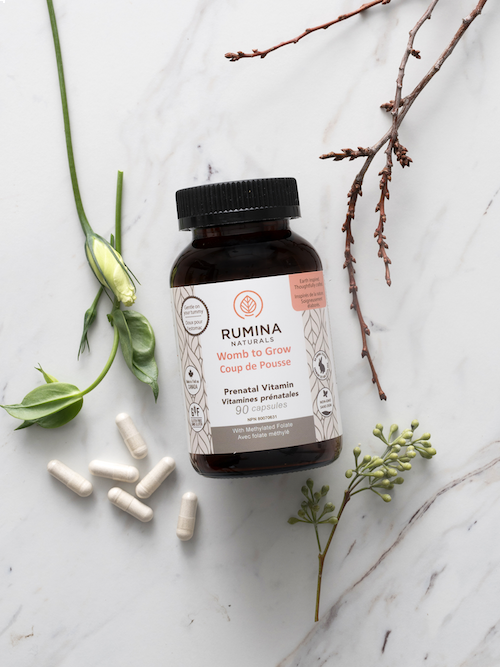 Rumina Naturals - Womb To Grow Prenatals
The ultimate prenatal vitamin for both pregnancy and lactation and they are easy on the tummy. 
Formulated to provide comprehensive nourishment for both mom and baby, Rumina Naturals use only the highest quality ingredients, in their bio-available forms.
These prenatal vitamins feature methylated folate and organic ginger to help ease upset tummy of early pregnancy. 
Rumina Naturals commitment to providing you the best prenatal vitamin and their dedication to consistent quality means you can focus on the most magnificent journey of your lifetime, without the worry.
• Comprehensive nourishment for both mom and baby
• Bioavailable, well-absorbed nutrients
• Optimal support for pregnancy and lactation
• 90 capsules
• Prenatal Vitamins with Methylated Folate
• Easy to absorb with no additives, colours or fillers
Beta-Carotene, Vitamin C, Vitashine Vegan Vitamin D3, Mixed Tocopherols concentrate, Vitamin K2, Thiamine, Riboflavin, Niacin-amide, Vitamin B6, Folate (L-5 Methyltetrahydrofolate, calcium salt), Vitamin B12, Biotin, Pantothenic acid, Calcium citrate, Iron II bisglycinate, Potassium iodide, Magnesium Bisglycinate, Zinc citrate, Selenomethionine, Copper II citrate, Manganese II sulfate, Chromium III nicotinate, Molybdenum VI citrate, and Ginger

Non-medical ingredients: Hypromellose, Rice bran, cellulose