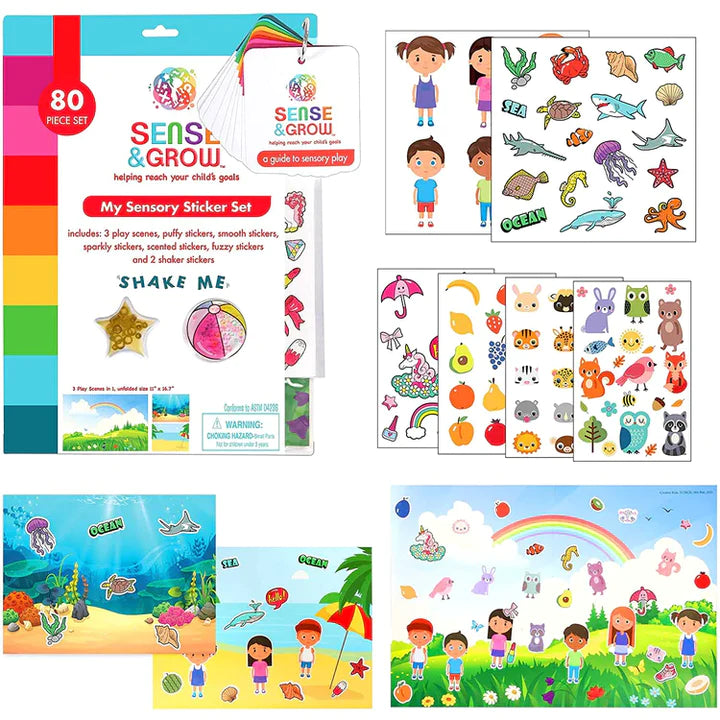 Sense & Grow: My Sensory Sticker Set
About this item:
Stick Your Way to Sensory Play: Use this 80 piece set of puffy, scented, glitter and shaker stickers to create imaginary scenes included or to decorate your school folders

Treat Your Senses: Use these sensory stickers for color recognition, hand-eye coordination and fine motor skills development

Stick, Decorate and Discover Creativity: Help kids get creative and learn by identifying the textures and colors of the stickers; crafting play scenes and creating their own masterpieces

Big Gift For Little Ones: This is a great holiday or birthday present that will satisfy kids sense of touch and vision with colorful stickers set that are soothing to feel and explore

Helping Reach Your Child's Goals: Our totally safe products are especially made to help kids explore, play and reach their developmental goals, This is a perfect kids activity toy that will help learning while playing
We Give You the Tools, You Provide the Imagination
Promote sensory development with a product that will provide endless entertainment. Give kids a form of self-expression that will help them express and cope with their feelings.
As visual motor and creativity skills get developed, it will provide opportunities for trying out new ideas and promote new ways of thinking and problem solving.
Parents can follow along in the sensory guide provided on each Sense & Grow product box to learn about the importance of sensory play and fine motor development.
They will recognize the advantages of the sensory items and all it provides for their child's well-being and overall development. By working on these important skills in a fun way, kids will be able to complete important tasks, such as buttoning and zippering, much easier.